Gardeners' Sale
Our annual Gardeners' Sale is scheduled on the Saturday after Mother's Day. Stroll through our farmer's market style sale that features vendors selling plants and gardening-related items. Proceeds from the sale fund our community projects.
THE 2023 SALE IS SATURDAY, MAY 20
8:00 am - 2:00 pm
1870 W. Galena Blvd.
Parking lot behind West Aurora Learning Center
(formerly Dreyer Medical Clinic)
RAIN or SHINE
FREE Parking
The Fox Valley Garden Club has plants from member's gardens, as well as annuals and perennials from a nursery available for sale at reasonable prices. Vendors offer annuals, perennials, vegetable plants, garden and yard art, garden related crafts, bird houses and feeders, and more. Food is also available.
Checklist for day of the Gardeners' Sale:
Arrive early for the best selection
Remember your plant wish list
Bring cash and/or checks
Bring a wagon or cart to transport your treasures to your car
Want to be a vendor? Download the guidelines and application here.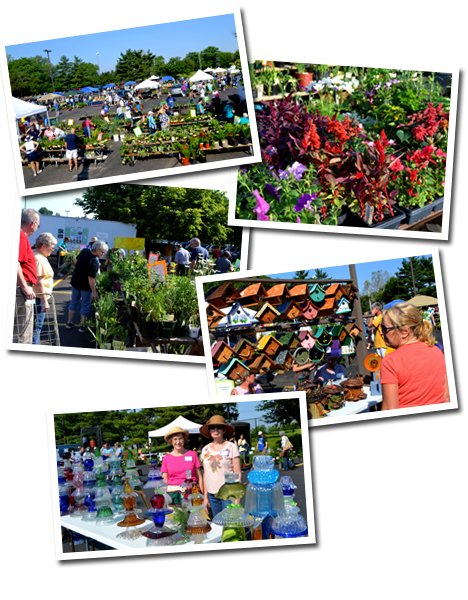 2023 Vendors
Plants
Cheryl App – perennials & handmade mosaics
Bartlett Tree Experts – tree services
Cara's Garden – tomatoes, peppers, kale, cabbage, cold-processed soap
A.Denise Farrugia & Ron Burgess – perennials, grasses, stainless steel plant markers
Fox Valley Organics – tomato and pepper plants, OMRI certified
Anne Galloway – perennials & coleus
Sofia Garcia - plants
Iris Meisters, Bill & Scott – potted bearded iris and perennials
Sue Middleton - perennials, hosta, coneflower, brown eyed Susan, sedum, iris, groundcover, loosestrife, handmade earrings, crocheted potholders
Needful Things, Tiffanie – plants, décor, accessories
Midge Poore – perennials, wood birdhouses, misc handmade items
Claire Rogers – perennials, garden décor, 3-D printed items
Karen Schroedter – perennials, cacti & succulents
Sophie's Succulents & Sweets - succulents, various plants, painted pots, cookies, pumpkin bread, granola
Sunset Growers, Jack – plants, hanging baskets, lettuce & green produce
Theis Farm Market – bedding plants, herbs, annuals, vegetable plants, hanging baskets
Crafts
Jim Ahng – birdhouses, driftwood bench, wood crafts, potting stands
Maria Arciga – tumblers, tote bags, keychains, handmade bracelets, makeup bags
Carla Baker – crochet handmade accessories
Bob & Del – steel garden art, fresh eggs
Cloudy Water Co, Jamie – crochet items, handmade art, etc
Margaret Durso & Joanne – stained glass, scarfs, used garden tools
Iron Nest – new, vintage, homemade, repurposed and upcycled home and garden items. Honey, jams, peanut butter, soaps
Junkin' Creations, Frank – metal art, bird feeders, rock art, paint your own concrete
Lion Concrete – concrete birdbath, flowerpots, lawn statues
Marty & Roger, Paw Paws worms
Norma – Mexican art
Shadowlux Soapery, Amy – handmade soap
Phil Strods – handpainted birdhouses, beehouse, garden signs from barn wood
Food
Brit's Sweet Treats - baked goods, scones, cinnamon rolls, cookies, pie
Draper's Honey, Don – honey, creamed honey, candles, paw wax, honey stix
Holy Pierogi, Gandi Falcon – pierogi truck
M&D Enterprise Service, Mark - local maple syrup
Sassafras Sweet Treats – cookies, scones, lemonade
Shadow Family Farm – homemade jams & honey, wood products-pens/pencils
Tamalex – freshly made artisan Mexican Tamales/cold drinks. Pre-orders available 2-weeks prior at: www.tamalex.net All pre-orders must be picked up at the event.