Gardeners' Sale
Our annual Gardeners' Sale is scheduled on the Saturday after Mother's Day. Stroll through our farmer's market style sale that features vendors selling plants and gardening-related items. Proceeds from the sale fund our community projects.
THE 2023 SALE IS SATURDAY, MAY 20
8:00 am - 2:00 pm
1870 W. Galena Blvd.
Parking lot behind West Aurora Learning Center
(formerly Dreyer Medical Clinic)
RAIN or SHINE
FREE Parking
The Fox Valley Garden Club has plants from member's gardens, as well as annuals and perennials from a nursery available for sale at reasonable prices. Vendors offer annuals, perennials, vegetable plants, garden and yard art, garden related crafts, bird houses and feeders, and more. Food is also available.
Checklist for day of the Gardeners' Sale:
Arrive early for the best selection
Remember your plant wish list
Bring cash and/or checks
Bring a wagon or cart to transport your treasures to your car
Want to be a vendor? Download the guidelines and application here.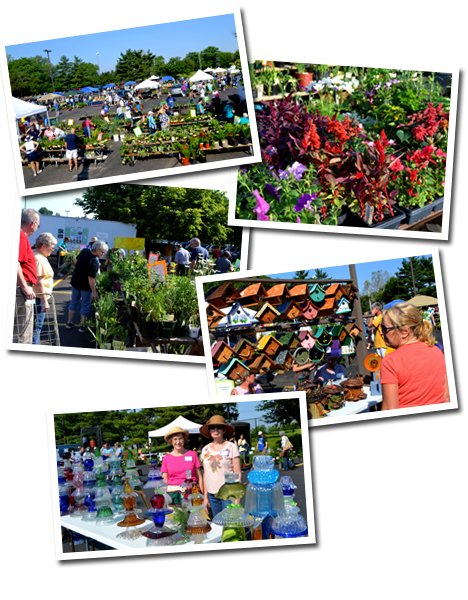 2022 Vendors
Cheryl App - Perennials
Doreen Bartow - Perennials, veggies & herbs
Michelle DePaedt - Veggies & herbs, sewing crafts
A. Denise Farrugia - Perennials, grasses, stainless steel plant markers
Fox Valley Organics – certified organic plants, vegetables
Anne Galloway - Perennials, coleus, garden planters
Sofia Garcia - Flowers
Marge & Bob George - Plants, jewelry, rocks
Bill Martin - Potted Iris
Sue Middleton - Hosta, ground covers, sedum, valerian, perennials
NiDe Jardin, Nancy Martinez - Indoor plants & accessories
Midge Poore - Perennials, trellis, squirrel picnic tables, bird houses
Karen Schroedter - Perennials, herbs, cacti & succelents
Sunset Growers Greenhouse - Hanging baskets, geraniums,
annuals, perennials
Theis Farm - Bedding plants, hanging baskets, herbs, vegetables, annuals, perennials


Jim Ahng - Wood crafts, bird houses, driftwood bench
Maria Arciga - Tumblers, tote bags, resin pens, key chains, handmade bracelets, makeup bags
Carla Baker - Handmade knit & crochet accessories, jewelry
Bartlett Trees, Scott - Tree handouts
Kyle Burkhart - Landscape Design & Build Contractor
Margaret Durso & Joanne Callahan - Stained glass, scarfs, used garden tools
Debra Frazen - Tumblers, pens, keychains, jewelry, soap, lotions, beard oil, balm
Gloria's Handmade Items - Quilter, sewn items
Tiffanie Hardekopf - Candles, clothes, outdoor décor, garden stuff
Humane Society & Rescue
Penny Johnson – handpainted stones, garden décor, upcycled grow bags and totes
Rich Kramer - Yard art
Lion Concrete – statues, birdbaths, flower pots, lawn statues
One Little Bird Creations - Upcycled birdfeeders & ornaments from kitchenware
Madera Designs, Alexis & Kendra - Plant themed home décor, laser engrave, lasercut, wood, acrylic, cutting boards
Frank Mayer - metal garden art made from recycled tools, mason jar birdfeeders, paint-your-own concrete
Sharon Paradis-Hagerty - Wreaths
Del Scaman - Steel sculptures, garden art
Wicker Fluent 630, Erin Steinwart - Vintage garden & home goods, glassware, brass, wicker décor, BOHO


Alice's Corner – selection of food
Brits Sweet Treats, Brittney - Scones, cinnamon rolls, cookies, pies
Draper's Honey, Don - Honey, cream honey, honey stix
Holy Pierogi, Gandi Falcon - pierogis
Java Plus Coffee - Coffee, tea, whole beans, chocolate, dog treats, pastry
Sassafras Sweet Treats, Sarah - Sweets, cookies, cupcakes


Click here for a printable version of this page.