Gardeners' Sale
Our annual Gardeners' Sale is scheduled on the Saturday after Mother's Day. Stroll through our farmer's market style sale that features vendors selling plants and gardening-related items. Proceeds from the sale fund our community projects.
THE 2021 SALE IS CANCELLED
8:00 am - 2:00 pm
1870 W. Galena Blvd.
Parking lot behind West Aurora Learning Center
(formerly Dreyer Medical Clinic)
RAIN or SHINE
FREE Parking
The Fox Valley Garden Club has plants from member's gardens, as well as annuals and perennials from a nursery available for sale at reasonable prices. Vendors offer annuals, perennials, vegetable plants, garden and yard art, garden related crafts, bird houses and feeders, and more. Food is also available.
Checklist for day of the Gardeners' Sale:
Arrive early for the best selection
Remember your plant wish list
Bring cash and/or checks
Bring a wagon or cart to transport your treasures to your car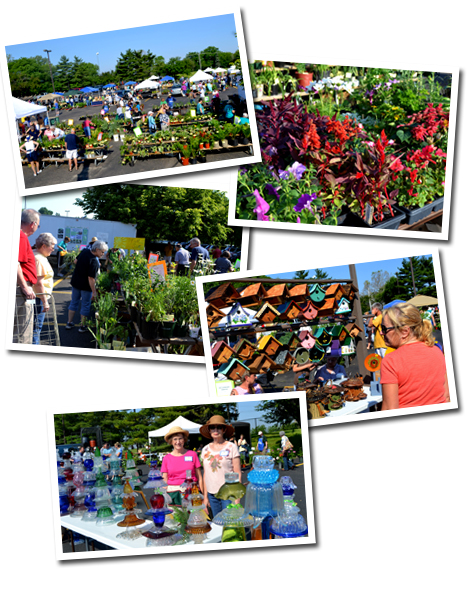 2019 Vendors
Cheryl App – perennials
Doreen Bartow – annual and perennial plants
Ken Bardo – vegetable seedlings, herbs, perennials, flowers
Terry Bermes – heirloom tomatoes, vegetables, herbs, flowers
Dowis Ranch (Janell Denham) – iris, daylilies
A. Denise Farrugia – perennials, stainless steel plant markers
Flowers by the River (Midge Poore) – annuals, perennials, garden décor
Fox Valley Organics (Dan & Beverly Swanson) – organic vegetable plants
Anne Galloway & Claire Rogers – planters, pots, containers
Marge George – plants, perennials
Mary Kaminski – plants: flowering, veggie, herbs, fruit
Laurie Mangan – house plants, succulents, crafts
Bill Martin & Scott Meister – native perennials, iris


Susan Middleton – perennials: hosta, coneflower sedum, brown eyed susan, heliotrope, loosestrife, valerian
Karen Schroedter – MS Society fundraiser—perennials, herbs
Sunset Growers Greenhouse (Jack Popek) - plants, hanging baskets, pouches, garden stakes, fishing lures
Theis Farm Market (Barb Pondelick – bedding plants, herbs, vegetables, perennials, baskets, pots
Dick's Mini Donuts – donuts, smoothies, coffee, water
Foxy's Ice Cream (Robyn Sutcliff) – iced coffee, root beer floats, ice cream sundaes
Gandi the Juice Guru – fresh-squeezed fruit and vegetable juices
Holy Pierogi (Gandi) – variety of fillings
Wurst Kitchen – bratwurst
Jim Ahng – potting stands, garden chairs, benches, bird houses
Carla Baker – Handmade jewelry, knit and crochet accessories
Jenifer Cervantes – 100% nail polish strips


Draper's Honey – honey, cream honey, honey soap, candles
Margaret Durso – stained glass, pet scarves, handmade baby items
Flying Monkey Metal (Jennifer Miller) – jewelry
Glass Expressions (Beth Murphy) – stained glass jewelry & items
Joyful Seasons (Cathy Whitt) – all natural skincare, handmade products – NEW
Carole Kirtzic – sequined trees and flower arrangements
Terri Locke – bird feeders from second-hand kitchenware
Linda Martin – wooden signs, bird houses, garden chairs
Nauti Mermaid Soaps (Tiffanie Hardekopf) - handmade soaps
Papa's Birdie Shop (Kelly Vohs) – bird houses, yard art
Jen's Pots (Jenny Wagner) – garden decorated terra cotta pots, flowers
Wood Art by Philip Strods - signs, placards, paintings

Click here for a printable version of this page.